On da Come Up with Bags the Boss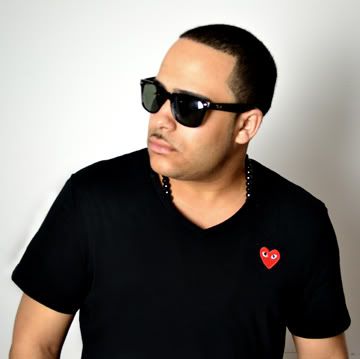 For some, the rocky road to success isn't easy to navigate, take Queens native Bags the Boss for instance. After working for years writing, changing producers, and waiting on his manager, he noticed no one was going to help him as much as himself.
It wasn't until a 7am call from DJ Fatfingaz in 2007 that made Bags work harder. With Fatfingaz and other DJs began playing his music. In '07, he hooked up with DJ Superstar Jay to drop his mixtape Bitch I'm a Star, which was the start of his mixtape series.
He has been popular with underground radio stations in New York like DTF Radio, Urban Latino Radio, and Alistradio.com and he is now ready to take it to mainstream.
Hip Hop Ruckus got up with Bags to talk about his music, his latest project, Audacity of Hope, and more. Get familiar!
HHR: Jumping right into it, where did the name BagstheBoss come from?
Bags: My name started off as Moneybags because of the lil' hustling I did in school just to have some extra money on the side, the name then got shortened to M. Bags, and then just BAG$. The boss part came from me having to handle all of my own business and paying for everything. I feel as if I myself have become a business owner and my business is good music.
HHR: Do you think an artist's industry name has an impact on how people first perceive him or her?
Bags: Of course, first impressions are everything and your name should be a reflection of you or have a personal tie to you. Some people just choose names they think are good and that's fine but I'd rather go with a name that I have a personal story behind.
HHR: When did you realize hip hop was something you wanted to pursue?
Bags: I believe it was when I saw B.I.G. on TV in the "One More Chance" video, back when MTV use to play videos [laughing]. I thought that he represented well for the fat dudes and the more I learned about him, the more I liked his music.
HHR: What inspires your music as far as lyrics are concerned?
Bags: I find inspiration in many things but the two that have the greatest impact are my life experiences and the experiences of the people in my circle. I feel that no matter what kind of music you make, if you have never personally experienced certain things you musically project to the world, where will the sole in the stories you tell come from? How will you truly connect with your fans; In addition to the fact that your music would get redundant and even transparent after a while.
HHR: That's some serious ideology right there family. Moving forward, the public has a short attention span, do you think it's more important for artists to create music w/ a serious message aka substance or to just entertain w/ great beats that distract from the actual message in the lyrics?
Bags: I think it's best for artists to create music that they feel comfortable with. When you're creating music based on what you think people want, it feels forced. It also depends on the kind of record you're putting together. When I'm partying and I'm drunk [laughing] I don't want the person coming through the speakers to preach or teach. I'm partying to forget about what's outside and have fun so the lyrics don't matter, honestly. Fact is everyone listens to music for different reasons depending on where they are and how they feel so one isn't necessarily better than the other. I just make sure that I create enough of all types of music so I can continue to move with the masses.
HHR: Okay, let's talk about your latest project "The Audacity of Hope". How did you come up with the concept and title it a phrase that has been made famous by President Barak Obama?
Bags: The title embodies what I've been trying to achieve my whole life and applies pretty much to anyone that has a goal or dreams no matter how small or large. Mine is the driving force behind my music. So "The Audacity of Hope" is a reminder to keep going.
HHR: Where do you see yourself in 2012?
Bags: In 2012, I see myself working even harder to gain a bigger fan base. I've watched many artist careers and a lot of the ones that you think came out of nowhere have been working for ten and fifteen years to make it to where they are now. So I know this isn't a short road and there aren't any short cuts.
HHR: What are five goals you plan to accomplish in the music industry?
Bags: Real fast off the top of my head, go multi-platinum (before I die), create jobs for my family and friends, help my community and start my own non-profit, make a classic album and to let my mom meet Puff [laughing] yeah she's a fan.
HHR: Do you think there's a way for artists to pimp the 360 deal and actually gain from it more than the record labels?
Bags: There's always a way around things you just have to be creative and be ready to try new things and work hard. The label is a bank with the right relationships. They give you a loan and you have to pay it back. Some artists think you get that money and then you're good, which is definitely not the case. If they can't recoup from record sales then they're going to get your shows or wherever else they can.
HHR: Who are three underground emcees you listen to on a regular?
Bags: I know I'm late on this but I just started catching on to Dom Kennedy, I listen to a lot of Emilio Rojas and Jon Conner.
HHR: Do you think mix-tapes and EPs have become the new album? And do they really get the same level of respect?
Bags: Mixtapes and its cousin EP is the underground artist's album and embrace them [Laughing]. I remember when mixtapes had nothing but freestyles on them and clips of radio interviews, etc. and now they're primarily all original material, and maybe a couple of freestyles as a bonus. I just see it as another way to get music out to the people.
HHR: What else is on deck for BagstheBoss?
Bags: I'm currently organizing everything for my next project "Born Star" this is the follow up to "The Audacity of Hope". In addition to continuing with my YouTube webisode series "Road to Hope", sharing with my supporters all the behind the scenes activities that take place during the grind of making it big. It's always entertaining [laughing]
HHR: Wrapping up any final words and where can people stay in touch w/you?
Bags: Shout out to Hip Hop Ruckus for this opportunity and definitely contact, like and follow me online. www.bagstheboss.com, www.YouTube/bagstheboss, www.Facebook/Bagstheboss, www.Twitter/Bagstheboss etc.