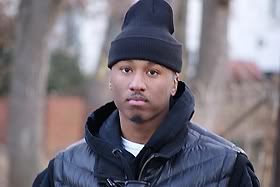 L.A. Webber gets on some rotten shit courtesy of G-Unit's Doe Pesci on his newest leak, "Lock N' Loadin," from his upcoming Calm Before the Storm LP. Must be the Bed-Stuy in him.
Stream/Download: L.A. Webber "Lock N' Load" [prod. by Doe Pesci]
"It's Goin Down" and Tha Riches crew is behind the L.A. Webber. Here's a bonus track off his upcoming debut LP.
Stream/Download: L.A. Webber "It's Goin Down" [prod. by J. White]

Updated:
March 14, 2011