On da Come Up with Lerix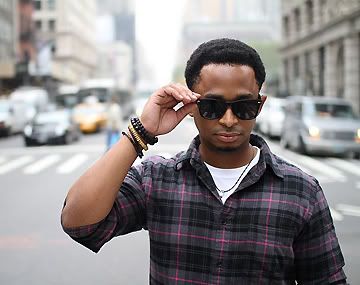 Brooklyn emcee Lerix is a throwback of sorts whose progressive style is reminiscent of Hip Hop's "Golden Era." His infatuation with rap music started at the age of 14 through his older cousin Hank Love, who was the co-host of New York's 105.9's "Hank Love and Half-Pint Show."
Lerix has preformed at numerous shows around the city, most notably at Littlefield for the Brooklyn Hip Hop Festival. He released his first mixtape, It's a (W)Rap…Again!, in July 2010 and his debut EP, New Heights, in November.
Next up for Lerix is his second mixtape Audio Arcade which he promises will be his best work to date.
Hip Hop Ruckus interview the up-and-coming rhyme-spitter recently about his catalogue, his love of film and what else is to come from Lerix as he looks to rise within the game. 
HHR: You dropped an album recently entitled New Heights. What was your concept behind the project?
Lerix: The concept of New Heights is about going after what you really want in life. A lot of the music on New Heights was inspired from events in my life and other people I know that found the desire and confidence to go for it. I think once you find that you automatically take yourself to the next level. 
HHR: Where can readers get the album?
Lerix: You can download New Heights on my website, www.LerixMusic.com. I also have my previous mixtape It's a (W)Rap…Again! on there too. Both are solid projects with something for everyone on it. 
HHR: Before you even spit your first rhyme, what were your other interests?
Lerix: My second love is film. Since I was a kid I was always fascinated with all the aspects that come together to make a film. One of my life goals is to write and produce a project for either film or television. I think it will be a dope experience. 
HHR: Aside from rapping, are you involved with the production at all?
Lerix: Yes, I actually do produce. Ironically, most of my own beats I don't end up using, so I pass them on to other artists and friends of mine. I also really enjoy collaborating with other artists and producers; great things happen when creative people work together. 
HHR: Tell us about the other acts featured on the projects. Is there a particular story behind picking them?
Lerix: When it comes to me working with other artists I have two rules: first, I have to really enjoy their music, and second I have to click with them. I'm not into features for features sake. If I don't vibe with the other artists then I won't do a track with them. Music needs to be honest from the very start or it just won't sound right. 
HHR:  Do you have any shows coming up?
Lerix: Yup, early spring I will be holding a show in New York City. As soon as we finish working out the details, I'll make an official announcement. 
HHR: Should we expect another mixtape soon?
Lerix: I'm currently working on my new EP, Audio Arcade, and its set drop this spring. I have features from some really talented artists, be on the look out this spring, this is going to be my best work yet. 
HHR: What's your plan for 2011?
Lerix: My plan for 2011 is to keep the momentum going with more music, more videos and more shows. 
HHR: Where can people find you?
Lerix: On Twitter you can hit me up at username @Lerixmusic. I'm a huge tweeter but no spam, I promise. I'm also on Facebook, just type "Lerix Music" in the search and you're good to go. And of course you can check me out anytime at www.LerixMusic.com. 
HHR: Any last words?
Lerix: Yea I just want to give a big shout to my team and supporters. I really appreciate all the help you guys give me. And a big shout to my fans, thanks for all the emails and tweets, you guys are the best. Feel free to hit me up anytime.