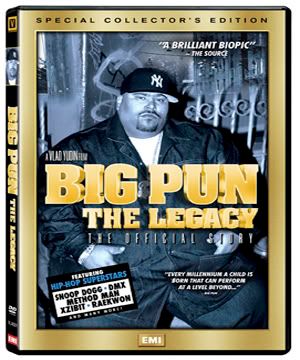 Hip-Hop filmmaker Vlad Yudin has released a biographic DVD of the late, great Big Pun entitled "Big Pun: The Legacy Special Collector's Edition." The film chronicles the life of the Grammy-nominated artist, who died 10 years ago.
 
This captivating and triumphant story features the making of a Puerto Rican rapper from the Bronx who made history by becoming the first Latino rapper to sell over a million records. In this special edition, all new interviews detail the making of "Big Pun The Legacy."
Experience his rise to stardom, the extraordinary weight gain, the legendary TS Crew and resounding legacy through a series of interviews with today's Hip-Hop heavyweights and those who knew him best. Includes never-before-seen footage and "Lost Files" archive. Discover the true story behind one of the most influential artists of our generation — Big Pun.
 
The films includes special cameos from Chuck D, Snoop Dogg, DMX, Redman and many more.  This special edition DVD is available in all stores today – September 28, 2010 through EMI Label Group.
Updated:
September 28, 2010