On da Come Up with Sonyae Elise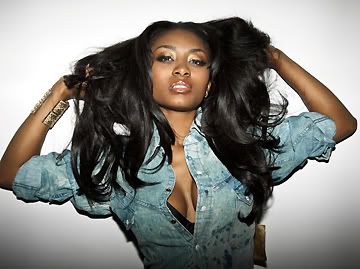 Sonyae Elise is an up-and-coming R&B diva who doesn't believe in conventional thinking, in other words she prefers to stand out amongst the pack as opposed to falling in line with an established blueprint.
The New Jersey born R&B sensation has been showing the world that her raw, heartfelt and passionate music is worth of a spotlight. Sonyae has been singing and performing since the third grade. In fact, she's appeared on and off Broadway, gracing the stages of acclaimed shows like The Lion King, Grease, Little Shop of Horrors and Rag Time.
Her musical influences range from 2 Pac to Prince, Linda Jones to Nas and Phyllis Hyman to Barbara Streisand – not a bad list of characters. With no musical training, just a family history of talented musicians and producers, Sonyae linked up with Multi Platinum production duo Midi Mafia at the tender age of 15 at Sony Records in NYC. Since then she has been extremely busy preparing for her time to shine
With a lead single, "We Heard (Retweet)," calling out insecure Internet thugs talking tough behind their keyboards and an aggressive viral marketing campaign Sonyae Elise is sure to cause frenzy in no time at all. You've been formally introduced.
HHR: Hey Sonyae, thanks for taking the time to talk with me. What's new on the home front?
Sonyae: Well, I have been recording non-stop! Also, doing a few shows here and there but nothing too heavy.  I have been traveling quite a bit lately, handling business on both coasts.
HHR: You have an impressive background as a trained actress, what made you decide to pursue lyricism?
Sonyae: My reason for pursuing lyricism was based on a desire to tell my own stories.  I have so many thoughts and emotions bottled up inside of me that I need to share with the world, and lyricism is allowing me to do that. Acting allowed me to bring life to the stories of others, but my music is allowing me to bring life to the many stories that I need to tell.
HHR: This seems to be the decade for lady lyricist. How will you stand out among the many aspiring to break through to the next level?
Sonyae: I like to joke and say, "I'm a rapper, trapped in a singer's body" but truth be told, I both sing and rap – comfortably. I don't sing because I can simply carry a tune and I don't rap because I have the ability to rhyme, I do both because neither is a struggle for me and they both are true passions of mine.  My ability to do both is going to ultimately allow me to connect with a variety of fans and supporters; thus hopefully pushing my career to the next level.
HHR: You're hailing from New Jersey, home to some incredibly fly artist, such as Lauryn Hill, Redman, Queen Latifah and Treach. How do you plan on maintaining the talent reigns?
Sonyae: I bow to those who have come before me and thank them for laying the foundation that I am standing on right now.  Some may say that I have big shoes to fill.  However, I choose to believe otherwise. I am not looking to fill the shoes of greats such as Queen Latifah and Lauryn Hill, I am simply looking to carry the torch that they have ignited as far as I can and eventually pass it off to the next talented, focused and dedicated individual who will continue to represent for New Jersey. I intend on staying true to myself and never losing sight of my beginning during my journey to my end. I plan to treat my first like my last, my last like my first and my thirst like the first song I sang.
HHR: "We Heard" (Re-Tweet) is said to be a banger and the leadoff single to your new mix tape, "Lady Rebel". When do you expect the mix tape to drop and what can we expect to hear?
Sonyae: I am excited to say that "Lady Rebel Vol. 1" will drop June 15, 2010.  It's one of those mixtapes that you can listen to from start to finish and feel that you have been on a roller coaster ride of emotions. My goal in making music in general is to evoke emotion – so you certainly should expect that.  I'm inspired by the experiences of others but the majority of "Lady Rebel Vol. 1" comes directly from my own experiences. Remember I rap and sing, so you can expect variety in terms of tempo and content.  Also, I'm a girl so of course you can expect to hear me expose my infatuation with fashion!
HHR: I see you've worked with Multi Platinum production team Midi Mafia, that's dope! How did you guys connect?
Sonyae: I'm happy to say Midi Mafia is my family.  Not too many artists can say that, so I know I am definitely blessed. When I was 15 years old, I bumped into Midi Mafia at Sony in New York.  We chatted a bit, I gave them a CD as I was leaving and from then on I have been their little sister.  It's beyond just work at this point they are truly my big brothers. We are without doubt "A Family Business".
HHR: Do they do most of the production on the mix tape?
Sonyae: Yes of course, Midi Mafia did the majority of the original beats.
HHR: What should we be looking out for, any future projects?
Sonyae: In general, you should always be looking out for the truth, and once you find it, never stray away from it. As far as my future projects, I am currently working on my next mixtape "Lady Rebel Vol. 2" as "Lady Rebel Vol. 1" is now complete.  In addition to recording for the next mixtape, I am also tucking away some of my best records for my first official LP.
HHR: You have an entire song dedicated to online demeanor, where can we find you online?
Sonyae: Youtube.com/SonyaeElise, Twitter.com/SonyaeElis, SonyaeElise.com, Myspace.com/Sonyae_Elise.
HHR: Let's get those shout outs, shall we?
Sonyae: Shout out to God, Midi Mafia, all of my supporters and, of course, Hip Hop Ruckus for giving me such a fantastic interview. Rebel approved!
Stream/Download: Sonyae Elise "We Heard (Retweet)
Interview was written by Pink Cookiz.